12
Retreat Package: Flexible Day Rate, Stay Exactly As Long As You Wish, All Included!
Riding level
beginner, intermediate
---
At Maroc Surf Camp, our team comprises of Mohcine Ababssa: A very experienced surf instructor, his wife Maria Teles da Silva and 3 local instructors, who are all accredited by the Moroccan Surf Federation. Together they will guide you through the Moroccan waves, allowing you to learn ad progress while always feeling safe. With a beautiful purpose built shala, newly added to the rooftop of the villa, and a keen personal interest and love of yoga, Maria and Mohcine are keen to open their doors to yogis and surfers alike.
This offer strikes the perfect balance between the two. With a day rate that includes four hours of surfing instruction and 2 and a half hours of yoga instruction per day! The rate also includes accommodation, use of all equipment (for both surfing and yoga) you may need, all meals, bottled water and much else, so you can stay as long as you want for a daily 'all inclusive' price! Be warned: You may want to stay longer than you intended!
We offer instruction only from experienced professional who are accredited by the Moroccan Surf Federation. So if surfing is a new experience for you, we can provide you the perfect environment to begin, both in the sense of the spots we have available and out focus on customer safety. If you have surfed before, then you already know how good it is for the soul, but out instructors can still help you to improve and are always around to ensure your safety. Within 10 minutes walk from our surf camp you will find the point break of Banana and two beach breaks that are perfect for beginners: Crou Crou and Devil's Rock. 5 minutes drive from the surf camp lie 4 spots that are perfect for intermediate/advanced levels: Anchor Point, Mysteries, La Source and Killer point. You can surf all day long and never be far from home!
Our resident yoga teacher has years of experience tailoring each session to the needs of the group, providing personal modifications and adjustments so that you are fully benefiting from your practice. She has successfully taught well over 20 retreats and is equally passionate about teaching strong dynamic flow as she is teaching supported restorative asana. Trained in Thai yoga massage she uses her understanding of the energy body to gently enhance restorative poses and apply encouraging adjustment to more challenging asana.
Each day you will be invited to a one hour daily session of dynamic yoga and one and a half hours of restorative or 'yin' yoga in the evening. The evening session is focussed on 'passive' postures: Holding a slightly uncomfortable position for three to five minutes to help stretching, relaxation and recovery from your day of surfing.
So for this under £100 per day, you will find that your whole day is filled with exertion, fun, friendship and relaxation, your belly is full of great local food and you have a wonderful bed for the night! What are you waiting for?
All Included:
1 hour daily dynamic yoga
1.5 hour restorative or yin practice every evening
All yoga equipment
2 surf lessons of 2h each every day
Transport to the beaches
All surf equipment hire
Accommodation
All meals
Bottled mineral water
Daily cleaning service
Need more details or looking for a special price?
Only certified guides and instructors
Communication with providers without third-parties
100% quality control
Share with your friends
Similar offers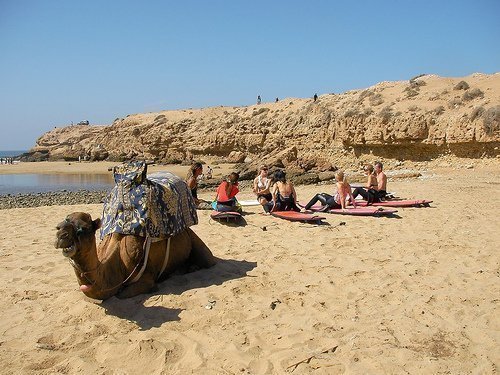 1 Week Moroccan Surf & Yoga Package. Amazing Local Spots + Great Yoga Classes!
Devil's Rock
$578

/ 7 days