12
7 Night Surfing Camp In Morocco - Double Room, Beautiful Beach House
Riding level
beginner, intermediate
Duration
2.5 hours per day
---
Zen Surf Morocco Surf & Yoga camp welcomes you to our dream location in the South of Morocco, near Agadir in the Taghazout area, for the ultimate surfing and cultural experience! We are proud to offer our customers stress-free surfing holidays for every need and every level and to make sure you enjoy the essence of surfing in Morocco. Located right on the beach and surrounded by banana fields, our surf camp offers modern amenities to European standards. We will make sure you will spend an unforgettable time with us, making the most of the great waves this coast has to offer.


Our accredited surf instructors will guide you through each step of the learning process to optimise your learning curve. Specially designed for beginners and intermediate levels, our surf instruction program focuses on teaching you the art of surfing a wave safely and in a fun way, taking your level and your experience with the ocean into account. We will do our best to give you one obsession after your trip: Coming back!


The Taghazout area is one of the best places you can find to learn surfing, because it hosts many spots that are sheltered from big swells, thus delivering small and easy waves to progress in total safety without dangerous rips. As a beginner or intermediate level surfer, you will be guided every day to the best and safest spot for your ability.The package includes 5 coached sessions over the week.


Each session lasts about 3 hours, usually over the morning, with a packed lunch on the beach. The rest of the day, you will be guided to the safest spot for your ability where you can surf under the supervision of a surf coach, of whom you can ask all the advice that you need. You can also just go back to our house and relax on a terrace looking at the ocean and go for a surf at Banana Point if you feel like it.


Our beach house is located right on the beach, and that is unique in the area. You will wake up to a full panoramic view of Banana Beach, the beach side of Banana Village and checking the waves on Banana Point and go for a surf couldn't be easier. Our bedrooms are nice, cosy and decorated tastefully with either ocean or inner garden outlooks. You can choose either double or twin bed configuration. They are located in independent apartments with all the modern comforts: Wifi, TV, bathroom + separate toilets and a kitchen for those willing to cook for themselves. You can choose either the shared or single occupancy option.


Alternatively, our "roulottes" are one of the most original features of our camp. With a beautiful sea view, these handcrafted wooden caravans have been designed to provide optimal comfort while keeping this unique "out of time" feeling that will satisfy the adventurous souls. They are equipped with double beds and a bathroom with hot water shower with dry toilets, providing you great comfort in the coolest retro atmosphere.


You will also be able to make the most of our rooftop terrace with panoramic ocean view, which offers you deck chairs to relax in the sun after a tough surfing session or to just take it easy and read a book while listening to the sound of the waves and enjoying a delicious mint tea. This is also the place where the sunset yoga session takes place, there is no better place to practice your asanas while watching the sun set on the Atlantic ocean.


For the most 'Zen' surf trip of your life, join us between Aourir and Tamraght and start your Moroccan surfing adventure!


Need more details or looking for a special price?
Only certified guides and instructors
Communication with providers without third-parties
100% quality control
Share with your friends
Similar offers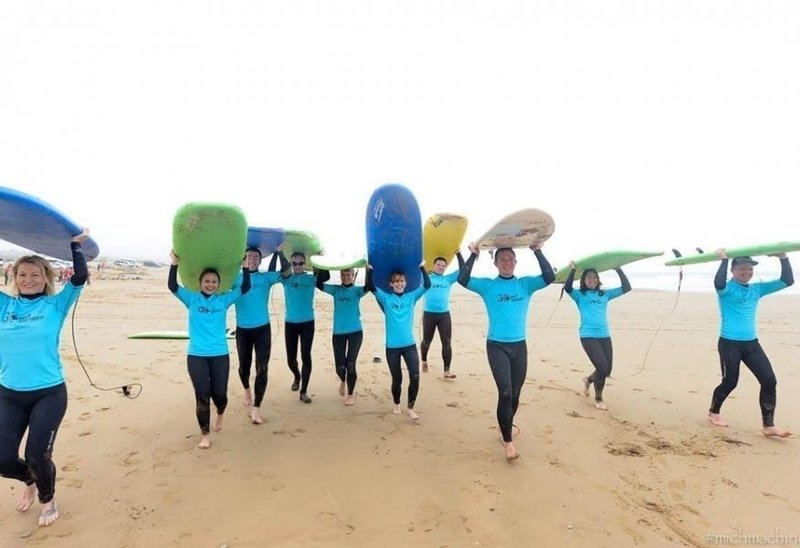 1 Week Surf Course For All levels. Qualified Instructors. Lunch & Equipment Provided!
Banana Beach
$233

/ 2 hours