12
All Inclusive Surf & Yoga Camp, Stay In Riad, Tamraght, Morocco
Riding level
beginner, intermediate
---
At the Surf Yoga Holiday At Surfline Morocco Surf Camps we strive to teach surfers of all levels and provide surf coaching for those who want to learn how to stand up on the board, surfers who want to improve and get more speed when racing the green waves, and even advanced surfers who want to be able to surf more vertically. From hanging out in the riad overlooking the ocean on the terrace, to stretching those aching muscles with a yoga lesson, this offers it all and more!
You will stay with us in our our traditional riad, which sits on the hill of Tamaraght Village. Traditional and characteristic with a welcoming atmosphere, it has the best views in the area. Whether you are relaxing in the courtyard, on your balcony or unwinding on the roof top terrace, you will be able to see the waves roll into Crocodile Beach, Devils Rock and Banana Point. Our riad offers both standard rooms for those on a budget and Suites for those who want a little luxury after a hard day of surf. Our rooms cater for singles, couples and groups.vWith surf shops, local cafes and amazing surf spots all within walking distance, our riad is situated in one of the most popular locations in the area.
All of our rooms have a fresh and light feel to them and are perfect for unwinding and resting after a long day of surfing. Each standard room includes a comfortable and relaxing room with shared bathroom facilities, whereas A Suite includes a comfortable and relaxing room, an additional seating area in your room, ensuite bathroom, stunning sea views and a private balcony.
Our Riad serves only fresh, local produce so our guests can experience true Moroccan Cuisine. Experience the tastes of Morocco whilst relaxing on the roof top terrace or sitting in our communal lounge area. Our local cooks will make sure you are never left hungry and will supply you with freshly made juices, fresh bread and tajine. We cater for vegetarians and anyone with food allergies, just make you let us know before your trip and we will cater to your individual needs.
The Riad has a two tiered roof top terrace, perfect for sunbathing, unwinding and spending time with friends. We definitely recommend popping up to the terrace to watch the sunset over Crocodile Beach, it's a sight not to be missed. There is free wifi which you are welcome to use and we have a stunning outside area on the ground floor with plenty of seating surrounded by our beautiful garden.
Inside the Riad we have a comfortable communal area which is perfect for meeting other guests or spending time with friends. At Surfline Morocco Surf camp we aim to help our guests feel completely at ease and to just lay back and relax, so you are all ready for surf, sea and fun!
Our surf lessons follow a program that has proven to benefit students at all levels:
Our surf coaching program for beginners consists of :
-Beach awareness
-Beach safety
-Paddling technique
-Standing up technique (Take off)
-Equipment
The beginners surf lessons are always on sandy beaches, and at a maximum of 1,2 meters deep for the safe practice of surfing with extra confidence. We head out to the beach at 9.30 and stay until 15:30 with a 2 hour surf lesson each day, then you have the rest of the day to enjoy the sun or keep practicing your surfing .
Our surf coaching program for intermediate surfers includes:
– Surf safety
– Surf etiquette
– Positioning
– paddling
– take off
– Body movement and positioning
Our intermediate surf lessons take place on beach breaks and mellow point breaks with sandy bottom. We recommend long waves for maximum progression since the Moroccan waves can offer us that
Our instructors speak French and English and we are sure that our guests will speak some of one of those two languages, allowing communication and understanding from the client and instructor.
Included:
Return airport transfers
Accommodation with three meals a day
SURF & YOGA Pack: 2h surf lesson & 1h yoga per day
Transport to the beach
Photos
Equipment rental + qualified surf instructor and guide
Need more details or looking for a special price?
Only certified guides and instructors
Communication with providers without third-parties
100% quality control
Share with your friends
Similar offers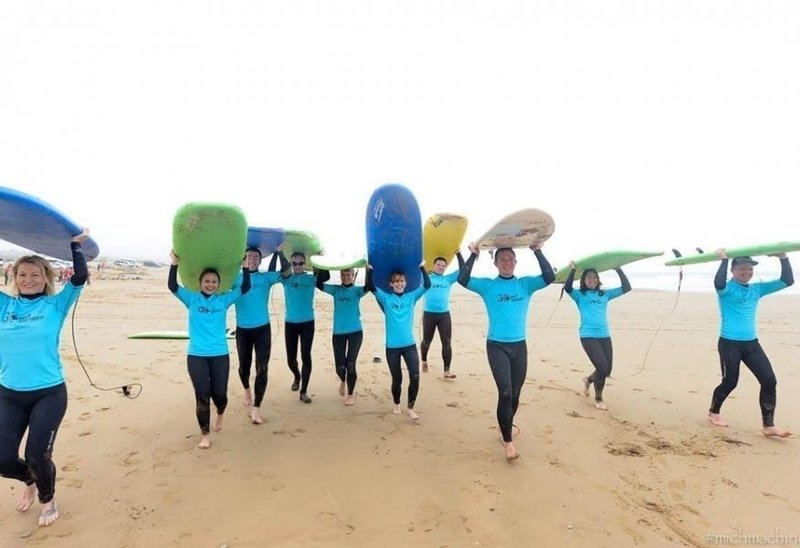 1 Week Surf Course For All levels. Qualified Instructors. Lunch & Equipment Provided!
Banana Beach
$233

/ 2 hours